I have been playing around with this recipe for awhile now and I feel like I'm finally happy with it so, I thought I'd share it. I know there are a couple of you that have been waiting for this recipe and here it is, FINALLY!
Homemade Fresh Tomato Salsa (Makes about 6 cups)
12 roma tomatoes (set 5 aside to dice up)
2 garlic cloves
½ cup chopped cilantro
¼ cup of diced red onion
juice of 2 limes
Kosher Salt & Pepper (to taste)
serrano pepper (optional)
Pull out your trusty blender for this recipe. Last year The Mister bought me a VITAMIX and it's amazing for blending up just about anything.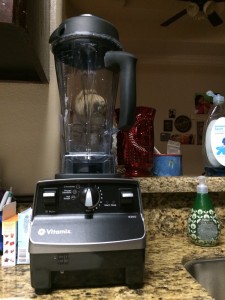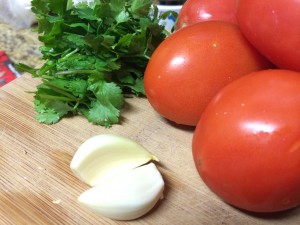 [If you are using a regular blender, I suggest cutting 7 tomatoes up into 4 wedges each.]
[If you are using a VITAMIX just throw in two tomatoes at a time.]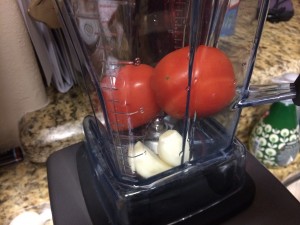 1. Put tomatoes, and garlic cloves into the blender and blend until smooth. The mixture will look pink but don't worry.
2. Pour tomato mixture into a large bowl.
3. Before you dice up the other 5 tomatoes, make sure to scrape out the pulp from them. I find that if you leave the pulp the salsa is way more liquidy. The other tomatoes that were pureed have plenty of pulp so no worries.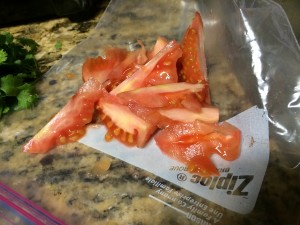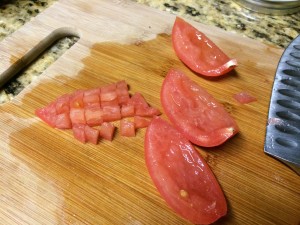 Dice the  tomatoes up and add to the pureed tomatoes.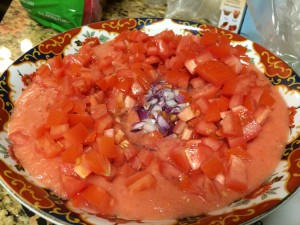 4. Add red onion, cilantro and the juice from those two limes. If you notice I have NOT added any serrano pepper. That is because red onions this time of year are so astringent and spicy that I didn't think it needed any serrano. Plus, I like my salsa MILD.
5. This is where you would add a diced serrano pepper if you decide that's what you want to do.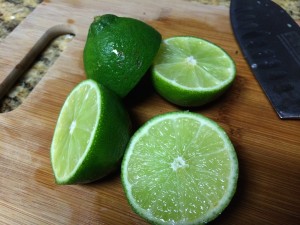 6. Salt & Pepper to taste and mix well with a spoon.
Now, remember that i said it would be pink–that's because the blender frothed it up–once it sits for a bit, it will look more red.
I pour my salsa in a tall mason jars and put them in refrigerator overnight.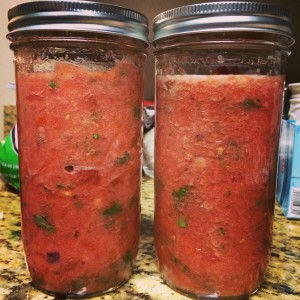 The next morning the flavors have melded together and it is absolutely DELICIOUS! Some days I can't wait so I have some then but it always tastes better after it's sat in the refrigerator for a little while.
P.S. For my local readers, this is really as close to the Antonio's fresh tomato salsa as I have gotten. Hope you get to try the recipe!
~Mrs Galvan~